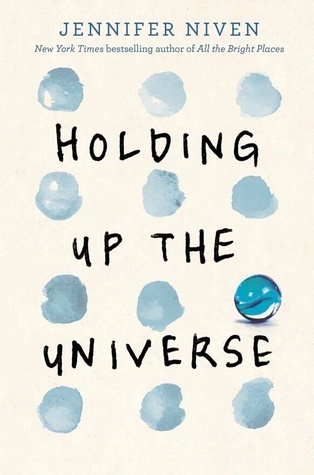 ---
Title: Holding Up The Universe
Author: Jennifer Niven
Published: October 4th 2016
Publisher: Knopf Books for Young Readers
Format: Paperback  
Page Count: 391 pages 
More info: Amazon, TBD and etc.
---
Everyone thinks they know Libby Strout, the girl once dubbed "America's Fattest Teen." But no one's taken the time to look past her weight to get to know who she really is. Following her mom's death, she's been picking up the pieces in the privacy of her home, dealing with her heartbroken father and her own grief. Now, Libby's ready: for high school, for new friends, for love, and for every possibility life has to offer. In that moment, I know the part I want to play here at MVB High. I want to be the girl who can do anything. 

Everyone thinks they know Jack Masselin, too. Yes, he's got swagger, but he's also mastered the impossible art of giving people what they want, of fitting in. What no one knows is that Jack has a newly acquired secret: he can't recognize faces. Even his own brothers are strangers to him. He's the guy who can re-engineer and rebuild anything, but he can't understand what's going on with the inner workings of his brain. So he tells himself to play it cool: Be charming. Be hilarious. Don't get too close to anyone.

Until he meets Libby. When the two get tangled up in a cruel high school game—which lands them in group counseling and community service—Libby and Jack are both pissed, and then surprised. Because the more time they spend together, the less alone they feel. Because sometimes when you meet someone, it changes the world, theirs and yours.
This looks like a really unique book considering the characters! I have read so many praises for the author and the cover is aesthetically pleasing. I basically bought this book for the cover (yes, I'm a judges-the-cover-before-the-plot kind of person.) An no, I haven't read All The Bright Places yet.
Uh, I'm disappointed. I think this is an overhyped book and there just wasn't enough feels to go around. The topic, setting and characters that she chose are hard to work with. It's downright offensive if she's not able to handle all those elements right. When I first read about the Fat Girl Rodeo, it almost made me put down the book. Things like these are gross and hostile, there were also scenes about bullying. No, the more serious issue is that this book really isn't about the tormenting, or the fat-disgracing, or living with emotional instability, it's about a cheap love story that was thrown away and now has been recycled. That is it. The rest is just to make the book lengthy.
I didn't particularly like or dislike Libby, I just found her to be an underdeveloped character. Her journey to self-love mostly revolved on finding a guy. US, WOMEN, ARE INDEPENDENT CREATURES WHO CAN LIVE WITHOUT THE MALE SPECIES. Jack was a better character than Libby for some reason that I can't decipher. But I don't believe that he could hide his face blindness from his family for years. I just don't understand this book. It made the reality of life feel unreal. The issues that the author tackled are all true and happening all over the world but her writing and narrative made me believe it was just a light matter that didn't need any awareness. Maybe it was the execution that faltered or maybe it was the lack of plans or thoughts about where the story was actually going. I mean the book was very easy to read and it was compelling at times but I was just truly disappointed.
FINAL THOUGHTS:
I just don't like this book. I just felt it was super underwhelming. I don't know. I feel super bad for criticizing this book but my opinion about it doesn't change. This book was very quotable though, I got so many quotes from this book. But again it was very upsetting to have high expectations and realizing the book was not able to comply.
And that ends my very rant-ish review about HUTU. I hope you had a different opinion about the book. Let's talk about it in the comments section below! Also don't forget to spread postivity wherever you go! (i did make a little bookmark for this pretty book though, maybe I'll post it on my November Haul and Wrap-up) 😅