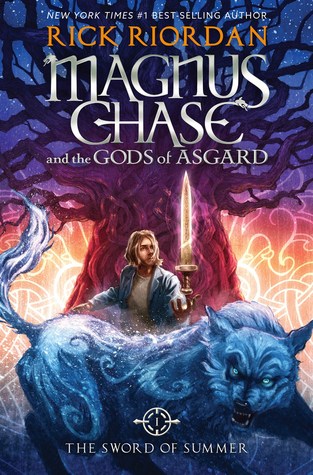 Title: The Sword of Summer (Magnus Chase and the Gods of Asgard #1)
Author: Rick Riordan
Published: October 6th 2015
Publisher: Disney – Hyperion Books
Format: Paperback
Page Count: 499 pages 
More info: Amazon, TBD and etc.
Magnus Chase has always been a troubled kid. Since his mother's mysterious death, he's lived alone on the streets of Boston, surviving by his wits, keeping one step ahead of the police and the truant officers.

One day, he's tracked down by a man he's never met—a man his mother claimed was dangerous. The man tells him an impossible secret: Magnus is the son of a Norse god.

The Viking myths are true. The gods of Asgard are preparing for war. Trolls, giants and worse monsters are stirring for doomsday. To prevent Ragnarok, Magnus must search the Nine Worlds for a weapon that has been lost for thousands of years.

When an attack by fire giants forces him to choose between his own safety and the lives of hundreds of innocents, Magnus makes a fatal decision.

Sometimes, the only way to start a new life is to die . . .
 INITIAL THOUGHTS: Okay, I'll be honest. I have tried reading this book twice and at those two times it did not work out for me. I basically gave up on the Magnus Chase Series. But our topic on Literature now is about Norse Mythology and I thought I would learn ahead, so who could be a better storyteller than Uncle Rick?
THOUGHTS:
 Looking at the cover, I can already conclude that the Chase's genes are really good at producing high quality and  beautiful demigods. I did skip a few pages since I already read those two times and I realized I stopped at the same chapter twice! (hint: Surt was there). I pushed myself to read this book for the sake of knowledge. ( I don't wanna be Mimir's slave lol.) And as I read on, Uncle Rick did not disappoint. I fell in love with the characters first. This book featured a smart, deaf but awesome elf who study runes, a dwarf fashion enthusiast, a mistreated loyal Valkyrie and of course, our dear dead Magnus Chase. We all know how Uncle Rick writes but if you don't well one word: wondrous. Now, the plot was very normal at first. It felt like bacon and eggs for breakfast but in the end, BOOM! It was actually an exploding egg! Oh my gods, the plot twist was very unexpected. I was shook. I did not know how to feel. (Keeping this spoiler -free so don't ask please, I mght spill the beans.) I really liked Magnus' character, there was so much development plus he had so many witty/funny moments. I would have liked more god facts and whatnot next time since I think this book focused more on the sword that can talk, a wolf who's allergic to flowers and yeah, somehow the Nine Worlds. The Norse mythology has so many elements that I'm sure Rick Riordan had a hard time balancing which deets or stories to put in the first book.
FINAL THOUGHTS: Overall, it was a good book! Maybe, I wasn't that impressed because I had super high expectations for this book. I did learn a lot, don't worry! Recommended to all mythology and Uncle Rick fans. What are 'ya waiting for buttercup?
       And that sums up my review for The Sword of Summer! I'm planning on buying the second book soon. Thanks for reading this blog post and if you want to have a discussion about this book, just comment down below! (I won't turn you into a sparkly vampire, promise.) Have a lovely day/night everyone!