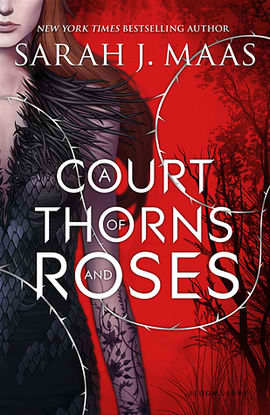 Title: A Court of Thorns and Roses
(A Court of Thorns and Roses #1)
Author: Sarah J. Maas
Published: May 5th 2015
Publisher: Bloomsbury USA Childrens
Format: Ebook 
Page Count: 416 pages
More info: Amazon, TBD and etc.
When nineteen-year-old huntress Feyre kills a wolf in the woods, a beast-like creature arrives to demand retribution for it. Dragged to a treacherous magical land she only knows about from legends, Feyre discovers that her captor is not an animal, but Tamlin—one of the lethal, immortal faeries who once ruled their world.

As she dwells on his estate, her feelings for Tamlin transform from icy hostility into a fiery passion that burns through every lie and warning she's been told about the beautiful, dangerous world of the Fae. But an ancient, wicked shadow grows over the faerie lands, and Feyre must find a way to stop it . . . or doom Tamlin—and his world—forever.
INITIAL THOUGHTS:
I have stumbled upon this book by mistake. So many people were posting it on Instagram and I said to myself, "I am not joining the hype and judging by the cover, it's one of those sultry new adults." But then the book haunted me and found its way into my tbr and so it began. I picked out the ebook and started reading. I already felt that the book was gonna be amazing.
THOUGHTS:
Sarah J. Maas, for me, is like the girl version of Rick Riordan. They both make you believe, feel and live in the worlds that they create. While reading the book, I reminded myself that it was just another retelling and even if the first few pages were interesting, I shouldn't lift my hopes up. But the way this author writes is so compelling that you itch to read more. The way that it was put in first person made me feel all the right feels so thumbs up for that!
---
Yeah, yeah the characters and the plot (Beauty and the Beast retelling here) weren't very unique but the way the story was executed, I wouldn't have minded. The characters were very easy to fall inlove with, especially Tamlin (who was the beast). Feyre was such a relevant character with her strong passion and sharp tongue (the witty thoughts and comments were fantastic). Lucien was my favorite character in this book because of his loyalty and red hair but at the end of the book, Rhysand turned out to be my fave since who can ever say no to the High Lord of darkness and beauty and… hotness. The plot was the usual Beauty and the Best with a twist. THE PLOT TWIST AT THE END (I'm gonna shut up now, bc aiming for the spoiler-free review)
---
The world-building was well-thought of but a little limited since we experience most parts of the book in Tamlin's estate only. Although we don't get to see much of the world, there was a rich history unraveling throughout the pages.The description and detail of every scene and character was to my liking and I will definitely read the next book and hope for more world-building in Prythian.
FINAL THOUGHTS:
I LOVE EVERY SINGLE PAGE OF THE BOOK (yeah, maybe minus the sultry and lusty parts). I have never felt so alive while reading a book. The romance (i hate love triangles but whatever), characters, unoriginal plot and everything came together in perfect harmony. I never regretted in READING this HYPE-WORTHY BOOK. (EEEEEK, RHYSAND TAKE ME WITH YOUUUUU!) TAMLIN IS ALSO HOT AND BEAUTIFUL. Not really a spoiler but Feyre, pronounced as "fey-RUH" was bugging me after I read the book. I read it as flat out "feyre" and expected it to be a one syllabled word but I was wrong. Anyways, this book is still a gem! Go read it right now! (actually influenced my friend to read this lol)
Plot – 20%
Characterization – 25%
Writing Style – 20%
Book Cover Relevance – 5%
Feels – 15%
Shareability – 10%
TOTAL – 95%
       Removed 5% from the plot since it was a retelling and I have to be fair but other than that, the twists and turns were marvelous. I really enjoyed this book even though it's a new adult and not a young adult. To all lovers of fantasy, this book is for you!