Backstage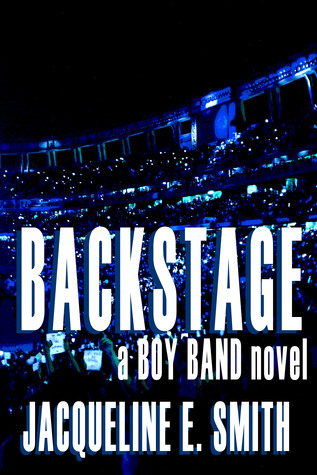 Author: Jacqueline E. Smith
Format: Paperback (review copy)
Date Read: June 11, 2016
Date Finished: June 13, 2016
DISCLAIMER: EVEN THOUGH THIS BOOK WAS SENT TO ME BY THE AUTHOR FOR REVIEW, MY OPINIONS AND THOUGHTS ON THIS BOOK WAS NOT IN ANY WAY BIASED OR MANIPULATED.
SYPNOSIS.

Melissa Parker might just be the luckiest girl on the planet.

She's just turned twenty-one.
She's best friends with The Kind of September.
And she's dating Sam Morneau, everyone's ultimate celebrity crush. Of course, no one is supposed to know about that.

As it turns out, no one is supposed to know about a lot of things that happen behind the scenes of life with the planet's most popular boy band. Now, what should be Happily Ever After for Mel and Sam is turning into a series of secrets, manipulation, and potential heartbreak… Just in time for The Kind of September's world tour.
CHARACTERS. I am going to repeat myself again, I am absolutely inlove with The Kind of September! Sam and Oliver are ultimate babes! I can't get enough of them, actually I need more of them! I could use all the exclamation points the world has to offer to prove my point! I am in tears and deep gratitude to Jacqueline for making me a part of this adventure. The boy band, drama, characters, fans and every single persona related thing in this book is lovable and relatable.Of course this excludes the monstrous freak named Tara Meeks. I appreciate that her friend, (i forgot her name), is not in the scene anymore. Thank you!
PLOT. It's pretty explanatory that since this book is a sequel to Boy Band, it'll have the same aspects and vibe like the first novel. But this one features a more complex and bitterly sweet story line. I praise Jacqueline again for a book that gives off the most relaxing aura. Everything in the book seems natural and not super predictable. There were twists and turns, secrets and betrayals but overall everything seemed worth all the painful feels. I appreciate that the writer took into consideration of explain most of the things since this can stand as an individual novel as well.
WRITING STYLE. All I can say about the writing style in this book is that, it is exquisite and simple at the same time. Everything was put into thought and very well-written. Omg the kisses and intimate moments!!! Thank you for not proceeding with a sex scene!  The words chosen by the author mix in very well and are fitting for the vibe that she pulled off. They give depth and meaning without being too metaphorical and confusing. I continued to enjoy the song choruses each chapter, may it be from Chloe, Morning Muses or TKOS!
ROMANCE. OH MAH GODS! Perfect! Spot on! Beautiful couple with a touch of love triangle drama. (I can't say anymore or else I'll end up spoiling all of you Cheeselings!)
FINAL VERDICT. If you're looking for a book, read this. If you're looking for a hot boy band, read this. If you're looking for some awesome one-sitting contemporary, read this! PEOPLE JUST READ THIS!
 Star rating: 5 out of 5