Boy Band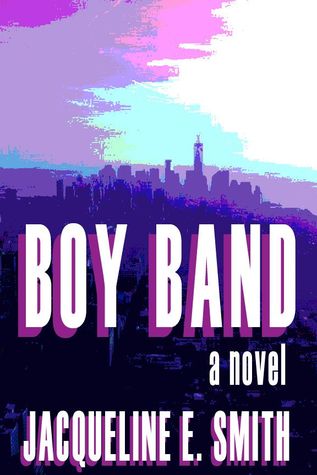 Author: Jacqueline E. Smith
Format: Paperback (review copy)
Date Read: June 1, 2016
Date Finished: June 4, 2016
DISCLAIMER: EVEN THOUGH THIS BOOK WAS SENT TO ME BY THE AUTHOR FOR REVIEW, MY OPINIONS AND THOUGHTS ON THIS BOOK WAS NOT IN ANY WAY BIASED OR MANIPULATED.
SYPNOSIS.

Sam Morneau is Melissa Parker's best friend. He's also a member of The Kind of September, basically the hottest boy band on the planet.

After two and a half years, Mel is all too familiar with the day-to-day occurrences that come with being a member of the band's inner circle, including hectic schedules, passionate fans, and gossip-mongering celebrity girlfriends.

Now, with the release of the group's third album just weeks away, their lives have never been crazier and Mel is doing everything she can to keep up, all the while trying to cope with the ridiculous rumors that follow the band everywhere they go and pretending that she isn't harboring a secret and hopeless crush on Sam.

It's weird enough being in love with your best friend. It's even weirder when the rest of the world is in love with him, too.
CHARACTERS. Can I have a moment to fangirl over Sam Morneau before I write this review? OH MY GOSH! Sam is so perfect that I don't even care if he didn't get some character development in the story or not. It has been a long time since I've read contemporaries but nevertheless, I'm telling you that The Kind of September is the perfect bunch for your fangirl needs. I'm rooting for Oliver (because duh, he's British!) I know that the set of character's are twenty year-olds but all of the characters are so cute and adorable except for Tara, Courtney and the other bishes . They all have individuality that sets them apart from the other characters, I'm still confused with Jesse and Josh tho. Overall, the multiple characters were very well polished and relatable especially the main girl, Melissa.
PLOT. As most contemporaries I read in the past, the plot is reasonably predictable. I mean, girl inlove with her best friend in an awesome boy band equals happiness or heartbreak. I'm trying my best to stop the spoilers from spilling but the feels are too real! I did not, in any way, liked the conflicts in this book because they broke my heart in little pieces and I do not like that! (now I remember why I don't read much contemporaries anymore) But while I was reading this, I got an insight on how hard the lives of celebs are, (and by that, I mean hot rocking boy band members). I kinda felt bad for one of the boys having tremendous dating and womanizing issues (I don't even understand why it's happening to him!). Ugh, press media can you stop? Omg the kiss killed me, too much kissing but I'm still so inlove!
WRITING STYLE.  If I was to write a novel, this would be it. I was hooked at page one in less than two seconds. Everything was so relatable and adorable as it should be. I love Jacqueline's writing style. Every word, every paragraph, every single detail was superb. The glimpse of song choruses each chapter was so heart-warming and I appreciated her efforts for making it beautiful. I read every single line of their music given in the book and I felt all of the feelings of the author herself. I can feel Jacqueline's personality merge in with the character Mel as she developed in the book and it just melts my heart that she would share this with all of her readers.
FINAL VERDICT. In theory, I think every teenager should read this (especially those band fangirls like me). I could have finished this book right away, if it wasn't for some circumstances. Just be prepared to feel vulnerable, raw, broken, healed and betrayed. It was almost perfect but not quite, I need a little more pizzazz! The ending will literally shock you so don't read ahead okay? So therefore, I grant ye book as a must read! FANGIRLS UNITE!
 Star rating: 4 out of 5